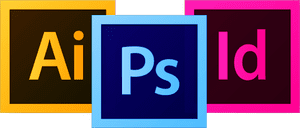 Adobe Online Courses
Over 400 Online Lessons
This 41-Hour Training Covers Adobe's Most Important Graphic Design Tools to Help You Fast-Track a Creative Career
Courses included in your Diploma
Go From Beginner to Expert in the World's Leading Photo Editing Software
Adobe Photoshop is the gold standard for creating and editing images. This course covers all aspects of the design process in Photoshop from importing images right through to final production considerations. You'll gain a fast, practical, in-depth knowledge of Photoshop and the design skills required to produce finished, professional images for publication.
Learn How to Design Magazines, Brochures, & More in Adobe InDesign
Adobe InDesign is intended to complement Illustrator and Photoshop to make the development of composite documents and manuals easier. In this project-based course, you'll learn how to design simple fliers and newsletters while incorporating graphics created in Photoshop and Illustrator into different document types.
Create Stunning Designs, Graphics, Pictures, & Icons with Illustrator
This course is designed to lead you through the design process in Adobe Illustrator. You'll learn a variety of ways to produce artwork and understand the issues involved with professional graphic design. By the end of the course, you'll be fully capable of creating special effects suitable for conventional printing as well as for electronic publishing.
You can complete the course in a 12-week period if you devote yourself to it full-time